Manufactures Have Specific Needs within their ERP Solution – Read Aberdeen Group's Whitepaper on What to Consider
The ERP selection process can be time consuming, stressful and confusing when considering all the requirements you need your software to have. This is especially true due to the number of ERP solutions on the market and the fact that not all cloud manufacturing ERPs are created equal.
Thankfully, the Aberdeen Group recently made available a Whitepaper breaking down the steps to take to when considering ERP software for manufacturing. This guide can help you choose the right ERP solution for your manufacturing organization and allow your business to grow.
You can download Aberdeen's free report on manufacturing ERP software, "What Do Manufacturers Look for in an ERP?", for yourself.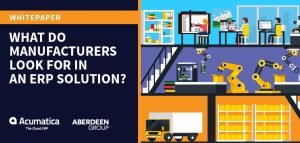 Manufacturing ERP software top priorities
"ERP represents a serious investment for any organization, but is absolutely vital to success in manufacturing. The ERP selection process should be regarded as a top priority, with appropriate time and resources devoted to it," writes the Whitepaper author Nick Castellina, Vice President and Research Group Director, Business Planning and Execution at the Aberdeen Group.
The author polled 130 manufactures to discover the main criteria they used in choosing an ERP solution. Ease of use and functionality were the cited by nearly half of the respondents.  The responses prove an important point.  No matter how good your software is – if you employees can't figure out how to use it, the ROI plummets.
Total cost of ownership is also a necessary consideration, ranking third on the Aberdeen report.
Choosing the right manufacturing ERP software
The report from Aberdeen on what manufacturers look for in an ERP solution notes that fully integrated suites and customization – like Acumatica provides – should be considered when choosing the best cloud manufacturing system for your business.
Manufacturing leaders understand the importance of industry-specific options within their ERP options, choosing the one that best supports their objectives. "With business objectives clearly in mind, organizations can find the appropriate functionality and features among the myriad of ERP solution options," Castellina writes.
Here are the four steps the Whitepaper lays out for manufacturers as they select the best manufacturing ERP software solution:
Develop a clear plan before software selection
Value functionality and ease of use over cost
Gather input from all levels of the organization
Align ERP with your goals and industry
Click to download the full manufacturing ERP software report. 
The report goes into detail about these steps and their effect on the efficiency and smoothness of the MRP ERP selection process.
Manufacturing ERP software success
Acumatica's complete, multi-site cloud manufacturing management system integrates all of your business processes from production planning to the shop floor. Their partners, such as CompuTec Integrated Solutions, works closely with customers to ensure that the manufacturing ERP software system that fits the customer's specific needs.
Every organization has unique requirements; your cloud manufacturing system needs to be adaptable, powerful, and responsive.
If you're looking for an ERP that can set your manufacturing business on the road to success, contact CompuTec Integrated Solutions today!