Acumatica Wins Quality Awards from K2 Enterprises for Customer Satisfaction
K2 Enterprises announced their 16th Annual K2 Quality Award Winners for 2017 and we're proud to report that our partner, Acumatica Cloud ERP received recognition for their outstanding customer satisfaction.
K2 Enterprises is known as the leader in continuing education for accounting and financial professionals. The prestigious K2 Quality Awards are the longest running and highly valued awards in the Accounting Industry.
Acumatica Cloud ERP received two awards – one for Customer Satisfaction and one for their Reseller Channel.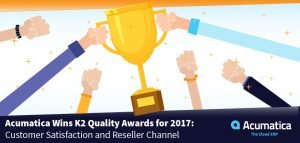 The Quality Award for Customer Satisfaction
Winning the Quality Award for Customer Satisfaction is especially meaningful for Acumatica because one of their key focus points has always been happy customers. From the beginning, Acumatica has listened to what consumers say the need in a midmarket cloud ERP. This award justified that they are delivering it!
Awards are selected by a panel of judges consisting of K2 Enterprises' instructors who offer consulting services and continuing education for accounting and financial professionals.  Their focus is on the latest technology features used by the accounting market. Each year the team is in front of tens of thousands of accountants, and according to Val Steed, CEO of K2 Enterprises, they hear 'the good, the bad, and the ugly."
K2 Enterprises takes the feedback and combines it with their own industry experience to name the overall winner.
The Quality Award for Reseller Channel
The Quality Award for Reseller Channel underscores the fact that Acumatica is 100% channel-driven and relies on VAR (Value-Added Reseller) like CompuTec Integrated Solutions for the sale of their mid-market ERP.
Partnering with VARs give Acumatica the ability to make cloud ERP more affordable to the midmarket. More than that, partners like CompuTec Integrated Solutions, provide consumers with objective and local IT advisers who gets to know your business process and ERP goals. They provide ongoing support and a personal relationship.
Award Winning Year for Acumatica
The Quality Award from K2 Enterprises is just the latest in an award winning year for Acumatica Cloud ERP. The company has also been named the 2017 Best SaaS product for ERP from the SaaS Awards, and the 2017 CODiE Award for Best Cloud ERP. Most notably, Acumatica received three PCMag Editors' Choice Awards for their Enterprise Accounting Software.
What Can Acumatica Can Do for You?
Want to learn more about Acumatica Cloud ERP for the midsize market? Their reseller channel is ready to help! Contact CompuTec Integrated Solutions for more information on Acumatica or a free demo on the software!   Let us help accelerate your business!  Give us a call at 262-538-1708 or contact us today!