Acumatica Cloud ERP Announces 2017 R2 Enhancements Coming October 9th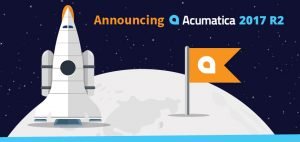 Our partners at Acumatica plan to release their much anticipated 2017 R2 to the market place the week of October 9, 2017. This new release will provide increased functionality to their cloud ERP solution.
Acumatica is the world's fastest-growing cloud ERP company. Recently named the Best Cloud ERP Solution and awarded three PCMag Editors' Choice Awards, Acumatica focuses on providing their users with the superior technology.
Acumatica 2017 R2 offers performance upgrades and a more flexible and personalized user interface as its centerpiece.  R2 allows users greater control over personalized dashboards and the ability to create role-defined views from preconfigured templates.
CEO of Acumatica, Jon Roskill, says, "The productivity focus of Acumatica 2017 R2 includes time-saving developments to customer relationship management, finance, accounting, distribution and field services."
Acumatica 2017 R2 offers other enhancements, include GPS location framework for mobile  implementation, external applications that can track data changes through push notifications sent by Acumatica ERP, localization of the Acumatica Self-Service Portal in multiple languages and full cloud-to-cloud integration with Smartsheet and Adobe Document Cloud. For more detailed information on the enhancements, click here.
Want to check out Acumatica 2017 R2 in person?
Want to hear about Acumatica 2017 R2 in person?  Register for an Acumatica 2017 R2 Roadshow by contacting CompuTec Integrated Solutions or check out the link with dates and locations of upcoming Roadshow Events.
CompuTec Integrated Solutions is a proud Acumatica Partner with over 21 years of ERP experience. We work directly with our customers to understand their business process and ERP goals. If you're ready to drive your business forward with the true cloud ERP platform, contact us today!